Duane Brekke is a hard-working guy who has always had many irons in the fire. That's true today, even though he's in his 80s, and it was true in 1973, when he bought the piece of property in Minot that would become Econo Storage.
Always a salesman, Duane spent most of the year selling class rings, yearbooks and caps and gowns to high schools. Once the school year ended, he had more time to develop other projects and properties. In the summer of 1973, that project was building on the property he'd recently bought in Minot. With no other self-storage facilities in the city, Duane saw a need and decided he'd be the one to fill it.
When Duane started Minot Econo Storage, his son Eric was two years old. Growing up, he remembers Sundays spent working on his dad's properties after church, cleaning and doing odd jobs. Eric eventually went to college, graduated in 1994 and jokes that he "migrated south to Minnesota," where he pursued a career as a CPA in Minneapolis. His heart was never far from Minot though, and he has always loved the community where he grew up. He had a great childhood here, and he'd soon have an opportunity to stay connected in a deeper way.
Duane's business partner was a family friend, and when he wanted to sell 15 years ago, Eric became 50-50 partners in Econo Storage with his dad.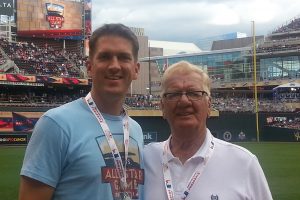 Duane and Eric complement each other well — Eric is the more analytical one; Duane has more of a "let's do it!" attitude. Eric is about numbers and facts and maintenance. Duane is about handshakes and negotiations and making the sale. Together, they successfully made Minot's first self-storage facility it's best, even as competitors popped up in the area.
Econo Storage has certainly benefited the Minot community, including hundreds of students at MSU and servicemen stationed at the Air Force Base, but it's also benefited Duane in many ways. Work "keeps him young," he says, and even now, at 82, he's still juggling many properties and investments. But about 12 months ago, Eric became sole owner of Econo Storage, buying his dad's share. They could have sold the business instead, but the strong feeling of community in Minot left Eric inspired to invest in it even more.
One of the greatest values Duane passed on to Eric and his siblings was his work ethic. On those childhood Sundays after church, Duane would do paperwork at his properties while Eric and the kids cleaned and did odd jobs. As the kids grew up, summer and after-school jobs continued to instill the value of hard work. Eric admits he wasn't always excited to do the work back then ("There was some kicking and screaming at times!"), but that perseverance and ethic has always stayed with him.
All of those Sunday afternoons spent working hard have paid off, and now Eric loves doing the maintenance work. He'll be spending this summer making some improvements to the Econo Storage property, and it's still a family ordeal — his wife Marianne has her painting gear ready to go! As Eric says, the property "has good bones," and he's looking forward to the future while carrying on the legacy of the past.